I had 48 hours in Bangkok before my flight to Melbourne. I could either spend it shopping in the many glittering malls in Thailand's capital city or I could park myself on the powdery white sands of the nearest beach and swim in azure waters. The thalassophile in me chose the latter. 
A quick Google search on the 'closest beach to Bangkok' threw up the islands of Koh Samet, Koh Larn and Hua Hin. I flipped a coin and went with Koh Larn.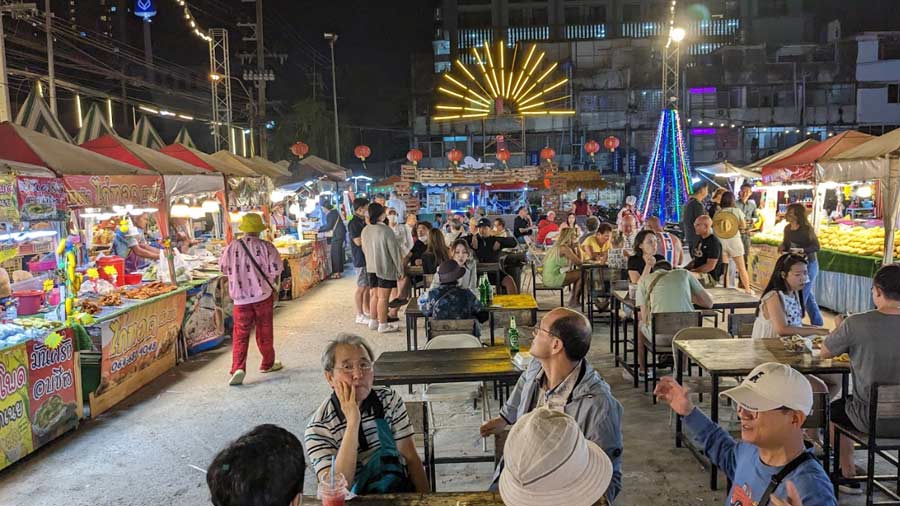 Food market at Pattaya
I hopped aboard Bangkok's BTS skytrain and alighted at Ekamai bus terminal, from where hourly buses by Roong Reuang Coach depart to Pattaya. A THB 130 (Rs 320) ticket got me a comfortable seat on a two-hour AC bus ride to Pattaya from where I hoped to catch the last ferry to Koh Larn. I missed it by a whisker, so I stayed the night in Pattaya — exploring its famous nightlife and street food market and woke up early the next morning to catch the 8am ferry from Bali Hai Pier.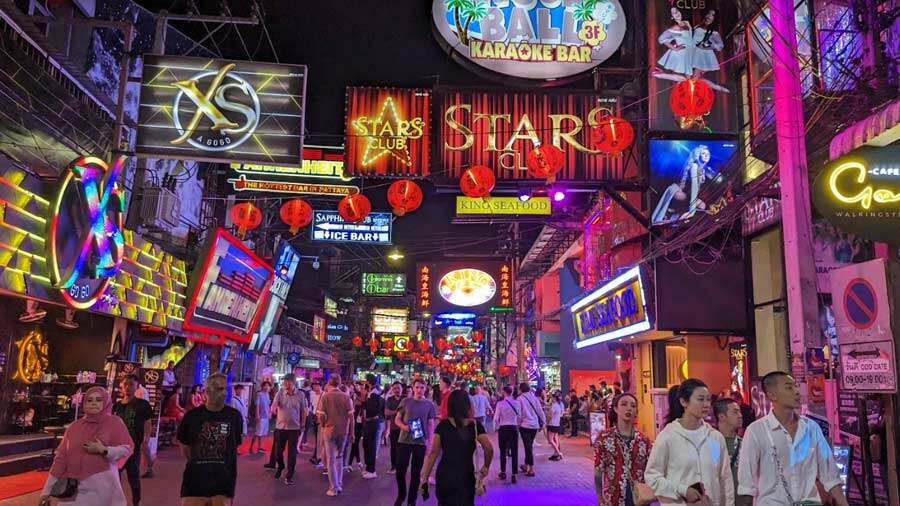 Walking Street, Pattaya
The ferry is a slow and enjoyable 45-minute ride for THB 30 (Rs 75) — the faster route is a bumpy speedboat ride for around THB 200 per person. No one insists you wear a life jacket, though it's advisable to slip one on and if you're not terribly seasick, you can even sit along the sides of the ferry dangling your legs over the South China Sea in the Gulf of Thailand, watching the ferry's wake create patterns in the water.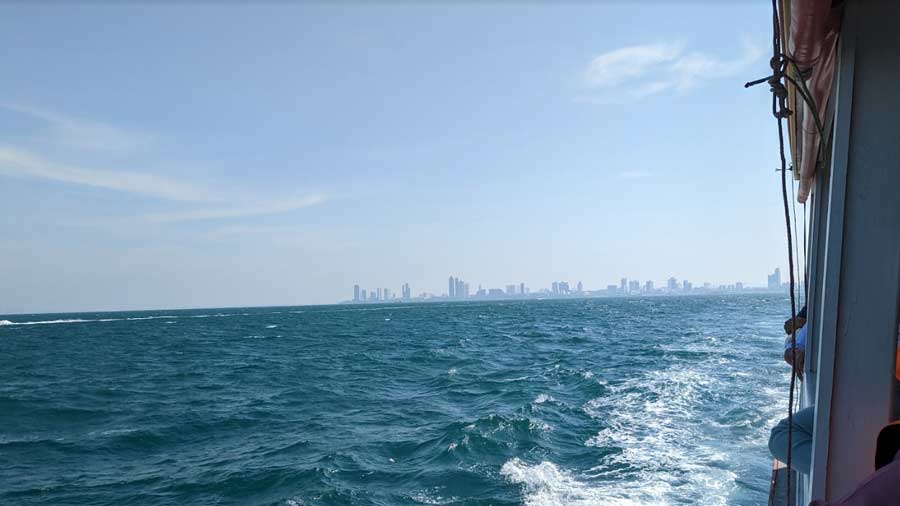 The fading Pattaya skyline from the ferry to Koh Larn
The ferry stops at either of the two piers on Koh Larn — Na Baan Pier or Tawaen Beach Pier. If you don't end up staying on any of the island resorts, you can take the ferry back to Pattaya — the last one leaves at 5pm from Tawaen and 6pm from Na Baan (timings may differ). It's a 10-minute walk to the end of the Tawaen pier so wrap up in time lest you miss it (I almost did!).
Koh Larn or Coral Island

Koh Larn, also known as Coral Island, has around seven beautiful beaches. It's a small island, so it's easy to hop from beach to beach via the songthaew (THB 40/Rs 97) or on a rented motorbike (THB 200-250/Rs 490-615).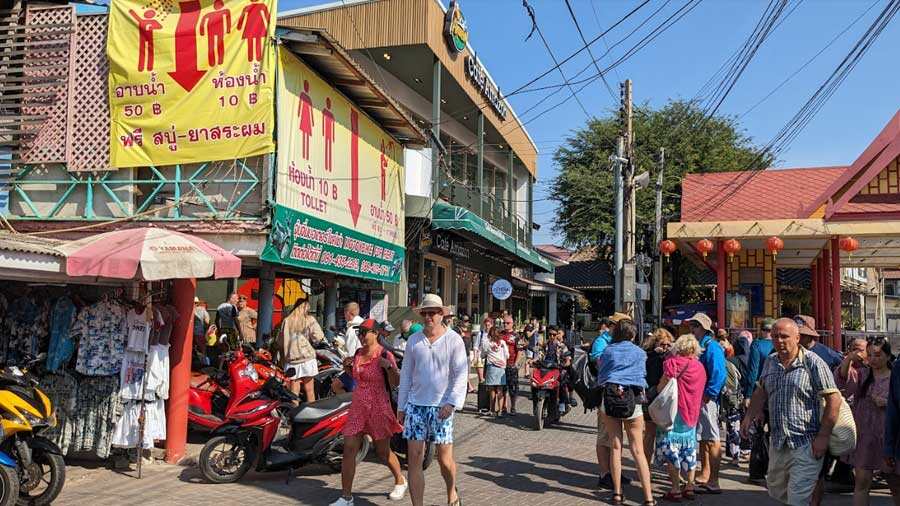 Na Baan bustles with tourists
If you alight at Na Baan Pier, you can walk around the community centre dotted with cafes, souvenir shops, hotels and a 7-Eleven, before exploring the rest of the island. There's a stall that blends smoothies from various combinations of fruits and it's exciting to know if mango and dragonfruit tasted as good as you imagined it to be! Avoid picking anything that's not easily available in Thailand… like avocado. 
Koh Larn has a Windmill Viewpoint, from where one can enjoy a panoramic view of the island lazily stretching out into the sea. 
I intended to check out all seven beaches but by the time I reached the third one, I happily plonked myself on a deck lounge and let the sea swallow my ambitious plans with the sun. 
Beaches of Koh Larn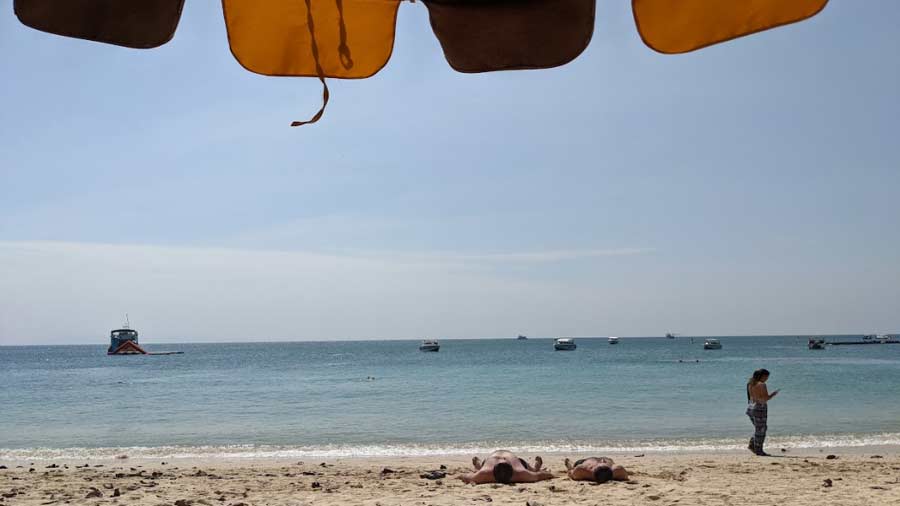 Tawaen Beach
The main beach on Koh Larn is Tawaen in the northern part of the island. Weekends, especially, can get crowded here as tourists and locals troop in from Bangkok. 
A short walk away from Tawaen is Thong Lang Beach. Just off the beach, there are coral reefs where you can snorkel. Then there's Sangwan, which is the second-largest beach, and Samae beach, which is half a km long and has a hilltop viewpoint. 
Nual Beach is the closest 'proper' beach from the Na Baan Pier so if you like a bit of crowd, then you can head here. It's also called the Monkey Beach though I didn't spot any (which was probably for the best!).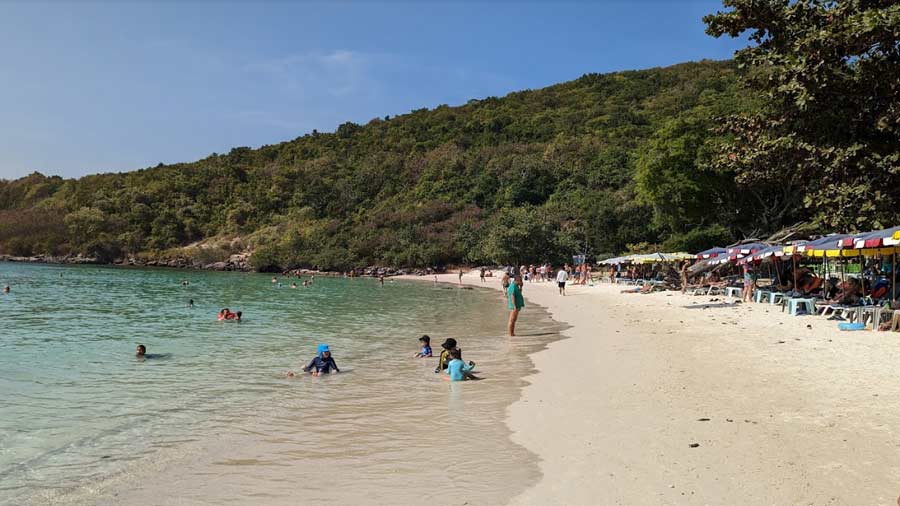 Nual Beach
Every tourist usually ends up having a favourite beach and among the three beaches I visited – Nual, Tien and Tawaen, Tien was mine. A walk down a raised pathway to the beach, white sands, turquoise waters, no vendors harassing you, few tourists, fresh fruit smoothies, cans of chilled beer… Tien ticked all the boxes. The beach is more than half a kilometre long, so you can walk down leisurely, swim or sunbathe.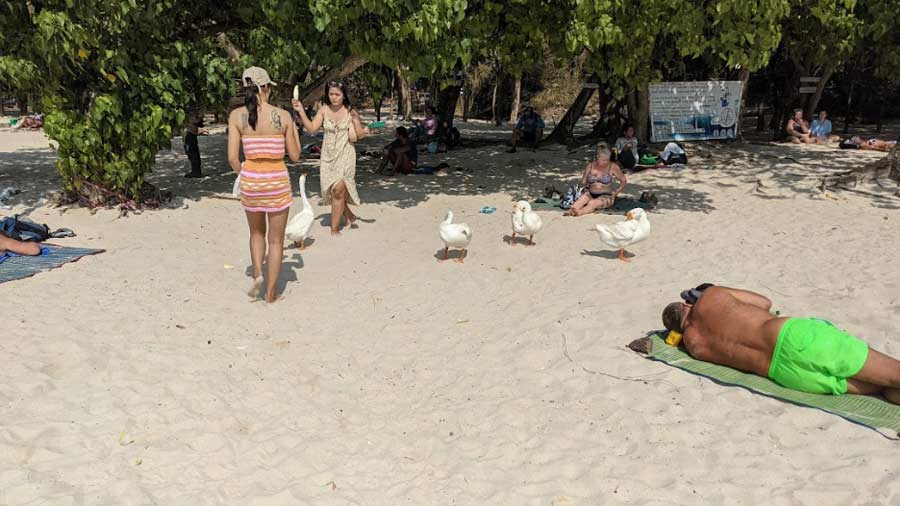 Tien Beach
All the beaches have sundecks which can be rented for around 50-100 THB for the day. One can carry food and beverages or buy them from the restaurants or stalls. 
Most beaches also have fun activities like banana boat, jet ski, water scooty and even paragliding if you're into water sports. 
Click here for some fabulous drone footage of the island and its beaches.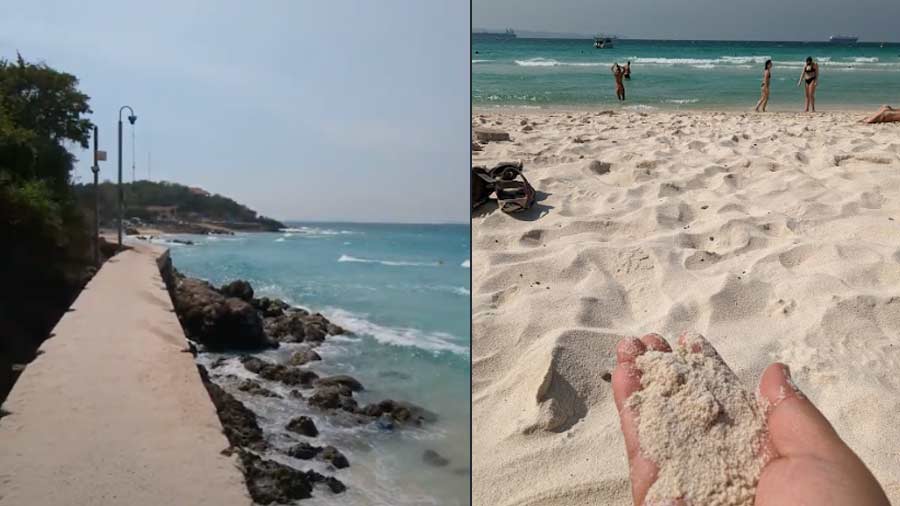 The walkway to Tien Beach and (right) the powdery sands of the beaches of Koh Larn
SEAS THE DAY

Getting to Koh Larn from Bangkok: A two-hour bus ride from Bangkok's Ekamai terminal to Pattaya, followed by a ferry or speedboat ride to Koh Larn. There are also direct buses from Bangkok's Suvarnabhumi airport to Pattaya. 
Getting around Koh Larn: Rent a motorbike for 200 THB (includes fuel) or hop on to the tuk-tuk which takes 40 THB to any beach. 
Stay: You can also stay at any of the resorts on Koh Larn or stay in Pattaya and make day trips to the island. The hotels are costlier in Koh Larn. 
Things to do: Beach-hopping, parasailing, paragliding, banana boat, jet ski, underwater sea walking, glass bottom kayaking. 
Eat: Fresh fruit smoothies and seafood.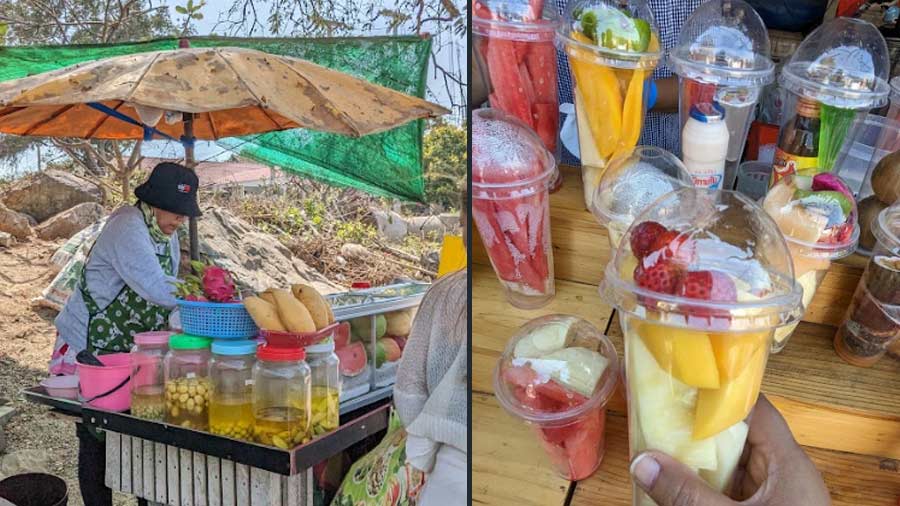 Fresh fruit smoothies should be on your list of things to try