Amiens, France
As my family and I cross the ornate, wisteria-clad iron bridge to our private island, the scent of jasmine floats on the breeze and water laps against rowing boat moorings. The tranquillity suggests our stay will be as relaxing as I had hoped, though I am surprised to feel so instantly at ease when the hum of a busy northern French city is just a 20-minute walk away.
This is Amiens, where a 300-hectare area of floating gardens called Les Hortillonnages is bursting into life with the arrival of spring. It's a colourful mix of bounteous allotments, tangled flower gardens and intriguing sculpture trails. The area has existed since the 12th century, when local people started to dig out peat for fuel from land near the River Somme.
They built raised gardens on the ensuing network of canals, on terrain ideal for growing vegetables. For centuries in this city, life remained largely the same, but come the late 20th century – with its supermarkets and mass agricultural practices – the number of hortillons had fallen dramatically. There are only eight market gardeners now, compared with about 900 in the 19th century.
Amiens' city leaders realised they needed to safeguard this exceptional environment. They did it though art and creativity – mostly an annual International Garden festival, which starts each May – as well as tourism, which explains how we have cast ourselves away for a short break in a tiny one-up, one-down cabin. It is among seven such abodes now on offer through holiday rental company D'Une Île à l'Autre.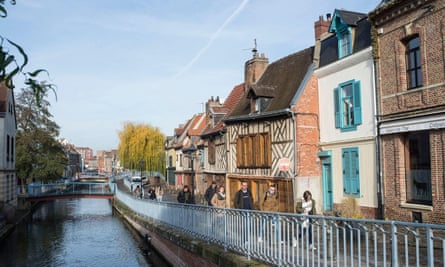 Our host, Océane, guides us to La Cabane Bleue, which we reach by crossing several footbridges linking other islands. When we get there we feel like we have stumbled on the three bears' cottage: its wooden clapboards are painted turquoise, with shutters and doors in purple. Océane shows us around: a kitchenette, a large shower room and an upstairs bedroom for three (the sofa bed makes it four, but it's a squeeze).
There is no porridge for Goldilocks, but crucially no wifi or TV either. A photograph of a soldier hangs in the sitting area.
"He was a French soldier," says Océane. "He hid in this cabin for six months during the second world war."
Later, we explore the waterways in a barque, a small flat rowing boat long used by the gardeners to get around. Paddling on the still waters is bliss; we spot herons and crested grebes and ducks nesting. Then, with a flash of blue, a kingfisher darts past as the late-afternoon light glances through the trees. When we get back to the cabin, we eat dinner alfresco before getting back on the water with two kayaks until the sun sets.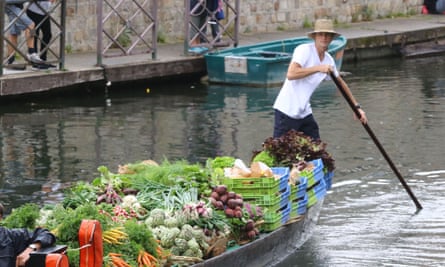 The next morning, we ride the free-to-use bikes along the canal-side road to the city. We lock them up near the lively restaurant district on the quayside before wandering along the cobbled streets. Rue du Hocquet, with its small and colourfully painted houses, leads us towards the 13th-century cathedral on whose facade, each summer, a sound-and-light show is projected.
Amiens was heavily bombed during the second world war, so much of the city centre resembles Le Havre, with its mid-20th-century Auguste Perret-designed apartment blocks. Above the rooftops soars the geometric, 29-storey Tour Perret (completed in 1952) – one of the first skyscrapers in France.
We buy a bag of the city's much-lauded almond macarons at Jean Trogneux, now run by the sixth generation of the family, whose most-famous relative is Brigitte Macron (not macaron). The sweet, fudgy treats fuel our post-lunch bike ride to a different part of the hortillonnages for an electric boat tour of the International Garden festival, which has run since 2010.
At the jetty at Camon, next to weeping willows and a lake dotted with lilypads, we meet our guide, development and cultural manager Marianne Anselin, who takes us on a tour of some of the 46 gardens and art installations dotted around an area called the Île aux Fagots.
"The way we're using the hortillonnages is different these days. People come here for days out and canoeing and boating," she says. "They realised that having a place like this, next to a city centre, is truly exceptional. But more importantly, the festival gives us a reason to maintain the site and protect it."
For two and a half hours, we hop in and out of the boat to visit several islands and learn more about gardening, biodiversity and climate breakdown. The most startling of the exhibits is a wooden house-like structure called Roques that measures 20 metres square – equivalent to the area of rural land in France that is lost each second to mass agriculture or construction. It gives us food for thought, though there are positives, too.
"The gardens give new landscape gardeners a launchpad for their careers, while others have a chance to experiment with new growing techniques," says Marianne. "Their planting also ensures the gardens' banks are protected from erosion."
As we cruise back to the jetty with the sun on our faces, fellow canoeists paddle by. It may not be Greek island-hopping, but for a short spring break, Amiens' hortillonnages make for an easy, peaceful escape.
The trip was provided by Hauts-de-France Tourism. Cabins rented via D'Une Île à l'Autre cost from €130 a night (two-night minimum)
Carolyn Boyd
Extremadura, Spain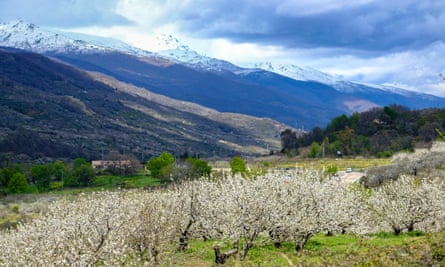 Once you have two million cherry trees blooming, melting snow on mountain peaks, torrents of water hurtling along gorges, and shoots turning the earth green, you know it's spring. For centuries, the inhabitants of the Valle del Jerte have got together for feasting and celebrations for the Despertar del Valle (the awakening of the valley).
Their festivities (now a National Tourism Interest) have traditionally coincided with peak cherry flowering season, usually between 20 March and 10 April, but which this year will continue to 3 May. Thousands of people make the trip to this part of Extremadura, three hours west of Madrid, midway between Salamanca and Cáceres, to gasp at the white blossom fluttering on the trees and, after a while, lying thick on the ground.
The simplest and laziest way of indulging in a bit of Spanish hanami is by car: following the main road (N-110) through the valley. The 30km route runs south-west to north-east, parallel to the Jerte River, through cherry farms and four villages, including Cabezuela del Valle, where there is a tourist office.
For those with no fear of steep, narrow, winding roads, a lovely 50km circular route in the south-west of the valley takes in El Torno and Rebollar on one flank and Valdastillas, Piornal, Barrado, Cabrero and Casas del Castañar on the other – and it's terraces of cherry trees all the way. The Mirador del Valle near El Torno is a poignant memorial to the Spanish civil war; and in Rebollar, the older houses are built in, under and around enormous boulders. A detour after Valdastillas leads to Caozo, one of Jerte's many magnificent waterfalls.
The roads through these mountain villages can get busy in peak season. However, there are 20 panoramic hiking trails, ranging from easy to gruelling, and six long-distance mountain bike routes as well. Information on these (as well as food, tours and events) is available from turismovalledeljerte.com.
Sorrel Downer
Kalkan and Bezirgan, Turkey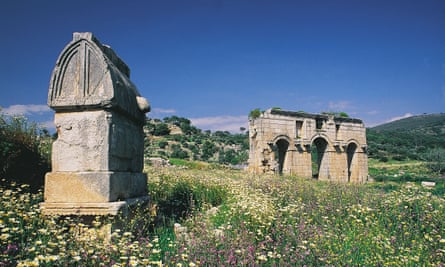 In a country such as Turkey, where tourism is seasonal, the arrival of spring brings a feeling of new year that's as palpable as 1 January. Everywhere, winter jobs are being finished: hotels painted, gardens replanted, wooden gulets (boats) newly varnished. Those who leave the coast at the end of the season for their homes in Istanbul, Ankara and İzmir begin to reappear, opening shutters and pulling up blinds on shops, cafes and restaurants that haven't seen daylight since the beginning of November.
Even in a busy town such as Kalkan the green shoots of spring are everywhere. Tight nubs of flowers on bougainvillaea and oleander stems promise clouds of colour in the coming weeks; geraniums bloom scarlet and pink in window boxes and pots. On the waterfront, the empty harbour slowly fills with gulets, returning from Kaş, where they are moored for the winter.
The best way to experience a Turkish spring at its most glorious is by escaping the developed coast for the rural hinterland, behind the mountain peaks that tower over Kalkan. The village of Bezirgan – traditionally the place Kalkan's wealthy would go in the summer to avoid the worst of the heat – is at its most beautiful from March to May. The fields are carpeted with chamomile, cranesbill and anemones, and the almond trees are covered in pale-pink blossom.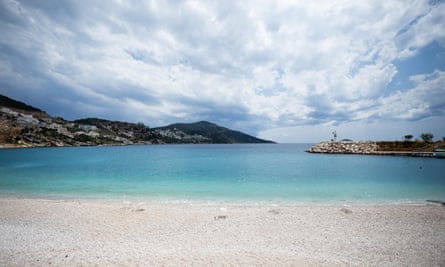 This is the time to pull on hiking boots and stroll along the Lycian Way, spotting red squirrels emerging from hibernation, tortoises lumbering from their winter boltholes and swallows swooping in, keen to rest after their return from Africa. The long-distance trail runs through Bezirgan, and offers the chance to glimpse the best of Turkey's natural beauty: swathes of pine, oak and eucalyptus, pink-flowered rosemary bushes teeming with bees and the first of the season's lambs tottering along behind proud new mums.
Best of all, the summer crowds – and heat – have yet to arrive, so this is an ideal time to discover the region's ancient sites, including Patara and Xanthos, and to walk in the mountains. The sea, however, takes a little while longer to shake off its winter coat: the icy mountain springs that empty into Kalkan's horseshoe-shaped bay mean a spring dip is not for the fainthearted. Far better to sit beside it and soak up the sense of tranquillity: a blissfully sunny hiatus before the real business of the year begins.
Villa Kalos (sleeps six) is on the road between Bezirgan and Kalkan and costs from £860 a week with vintagetravel.co.uk. The Courtyard hotel in Kalkan has doubles for £140 B&B
Annabelle Thorpe
Douro valley, Portugal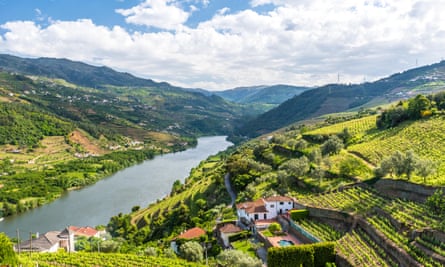 Residents of Portugal's famous wine-growing Douro region like to joke that they endure "nine months of winter (inverno) and then three months of hell (inferno)". The word play is lost in translation; and to be honest, so is the meteorological reality. While it's true that the steep valleys of the Douro create a distinct microclimate that bring with it finger-biting winters and skin-scorching summers, there is still space for spring.
And what a splendid spring it is. As if overnight, the dreary browns of the valley's terraced hillsides brighten in March and April with the iridescence of waking vines. What was a sullen landscape of gnarly stickmen transforms into a verdant array of springtime spright. Sail up the River Douro in a flat-bottomed cruise ship or ride the rails in the valley's historic steam train, and leafy vines above assail you at every turn. As the vines spring to life, so too do the vineyards. There is a tangible buzz to the Douro valley as wine workers dig out their secateurs and don their overalls.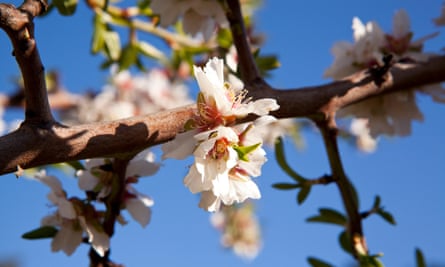 Bacchus isn't the only one coming out to play in spring. The Douro's flowering almond trees are also a sight to be seen. For an enchanting three-week spell in late February and early March, patches of these Unesco world heritage hills become bathed in snowy white with wisps of pink. A few weeks on and the sweet scent of almond blossom gives way to an aromatic outbreak of seasonal flora, from daisies and sunflowers to brooms and gorses.
In the upper reaches of the Douro, meanwhile, the wall-to-wall vineyards allow a look-in for fruit and nut trees; pears, apples, figs, plums. The biggest springtime show-off is the cherry tree, whose white and pink blossom offer up a stunning staple of the season.
Oliver Balch