I grew up in a blue-collar family, bouncing between apartments and eating free school lunches. In other words, a 45-minute drive to the beach was my idea of a luxury vacation. Never did I think that exclusive tropical destinations and all-inclusive resorts were in my future. To be honest, all-inclusive resorts seemed like an over-the-top indulgence to me. And if there's any resort chain that was the epitome of that idea in my mind, it was Sandals.
You know, the brand with immediately recognizable commercials full of pristine ocean-front infinity pools and happily carefree vacationers.
While I still believe that all-inclusive properties are an indulgence (even for the mega-rich) after visiting a Sandals property myself, I now know that… they just might be a worthwhile one (assuming you can afford it). I spent a week at Sandals Royal Barbados, located on the beach in Saint Lawrence Gap, and it was exactly what I imagined a Sandals might be like but… well, better. It was an all-out luxury experience complete with 24-hour on-call butler service, romantic balcony claw tubs (my personal favorite hotel room feature, perhaps ever), seaside views, and an endless supply of freshly-made food and drinks.
It's basically a luxury amusement park for adults. Not to mention, the on-site bowling alley, brand-new rooftop bar, and array of water sports.
Between the happy honeymooners and elderly rich folks, I did feel out of place at times (or at least the young hand-me-down-wearing girl in me still felt that way). But the thing I realized throughout my trip is that everyone deserves to indulge in a luxurious travel experience from time to time. I'm certainly glad that I took one, and that I experienced it with my best friend. While romantic resorts like this one are often magnets for couples, it's also the perfect environment for you and your closest friends to, how do I put it plainly… ball TF out together???

Check my full hotel review below:
WHY IT'S AWESOME:
I think the fact that luxury resorts are most frequented by a singular audience is even more of a reason to visit. To diversify the scene and expand one's own travel experiences. Sure, it might take some extra time and a vacation-dedicated savings account. But to be honest, the luxury and comfort you'll find at Sandals Royal Barbados are worth the splurge.
Foodies will love the bottomless meals at the property's 20 dining options. Adventurers will take advantage of the unlimited watersports and nearby boating excursions. Wellness enthusiasts can spend their days relaxing at the Red Lane Spa and lounging by one of the 11 pools (Yes, you read that right — eleven). Those looking for a lively nightlife scene can sip locally-made rum and listen to nightly live music in the resort's central courtyard. Or, you can head into town just a mile down the road for some local cuisine and weekend parties.
With such a vast property full of tons of amenities that appeal to different tastes, there really is something for most appetites. Speaking personally, I found my place at Sandals Royal Barbados in the calm moments between the fun-filled excursions and fine dining — strolling down the beach at sunset with my lifelong best friend, soaking under the waterfall showerhead for just a few extra minutes, savoring that first sugary sip of a piña colada on a hot afternoon…. You get the idea.
FOOD & DRINKS: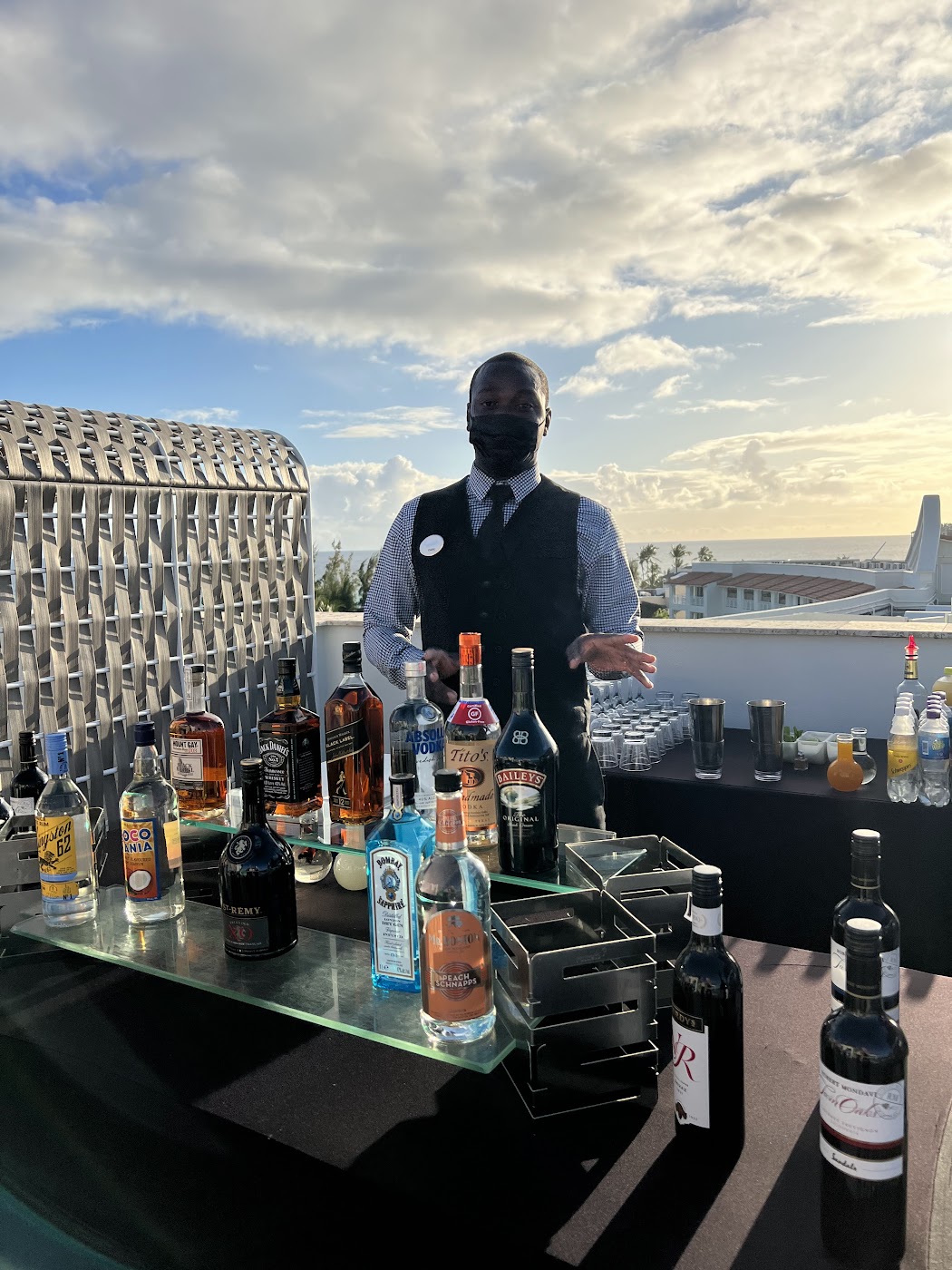 There are 14 bars and at least 20 dining options — if you somehow try every one of these throughout your stay, you deserve an award. For those who want a healthy salad and smoothie between pool sessions, Heart & Sol offers plenty of fresh greens. This is where I came each day to feel better about the questionable number of cocktails I was consuming. If you're looking to taste authentic Caribbean food, head to The Jerk Shack for a casual poolside snack and a hearty helping of spicy jerk chicken. I don't even eat chicken, but I had to try a bite. I immediately asked myself, "wait, why am I a vegetarian, again?"
Chi is the perfect place for a fancy ambiance and mouthwatering Asian delicacies. Oh, and don't forget to start your morning with a doughnut and coffee from Sweet n' Salty's. I'm not going to list and describe every restaurant (that would take me far too long), but you get the point. If you don't leave this place desperate for a workout at the gym, you didn't take enough advantage of the all-inclusive perks (again, I know this is my thrifty mentality at play but — it added to the fun to try as much as I could!).
As for the bar scene, you'll be able to find rum punches and daiquiris around every corner. If you want beer and a nightly activity all in one, the bowling alley is your spot — good luck avoiding gutter balls after a few drinks. Brew lovers will gawk over the wraparound craft beer bar, which serves 19 different brews from around the world. My personal spot on the property was the rooftop bar and pool, which overlooked the main resort pool and beach area. I loved it not only for the view but also because there never seemed to be a crowd there (I think this is partly because guests didn't know it was there) so it's a nice place to sip and chill in peace.
AMENITIES:
Unlimited fine dining at 21 restaurants
Unlimited premium liquors
14 bars, including rooftop and swim-up bar
Stocked bar in every room
All amenities at adjacent Sandals Barbados
PADI-Certified SCUBA diving and equipment
Snorkeling and equipment
Hobie Cats, paddleboards, kayaks, glass-bottom boat
Bowling at Lovers Lanes
11 pools and 6 whirlpools
Tennis and land sports
State-of-the-art fitness center
Day and night entertainment and live shows
All tips, taxes, and gratuities included
Roundtrip airport transfers
VIP Rolls-Royce transfers for select suites
Escorted fast-track immigration for select suites
WiFi in room and all common areas
Free wedding for stays of three nights or longer
ROOM TYPES: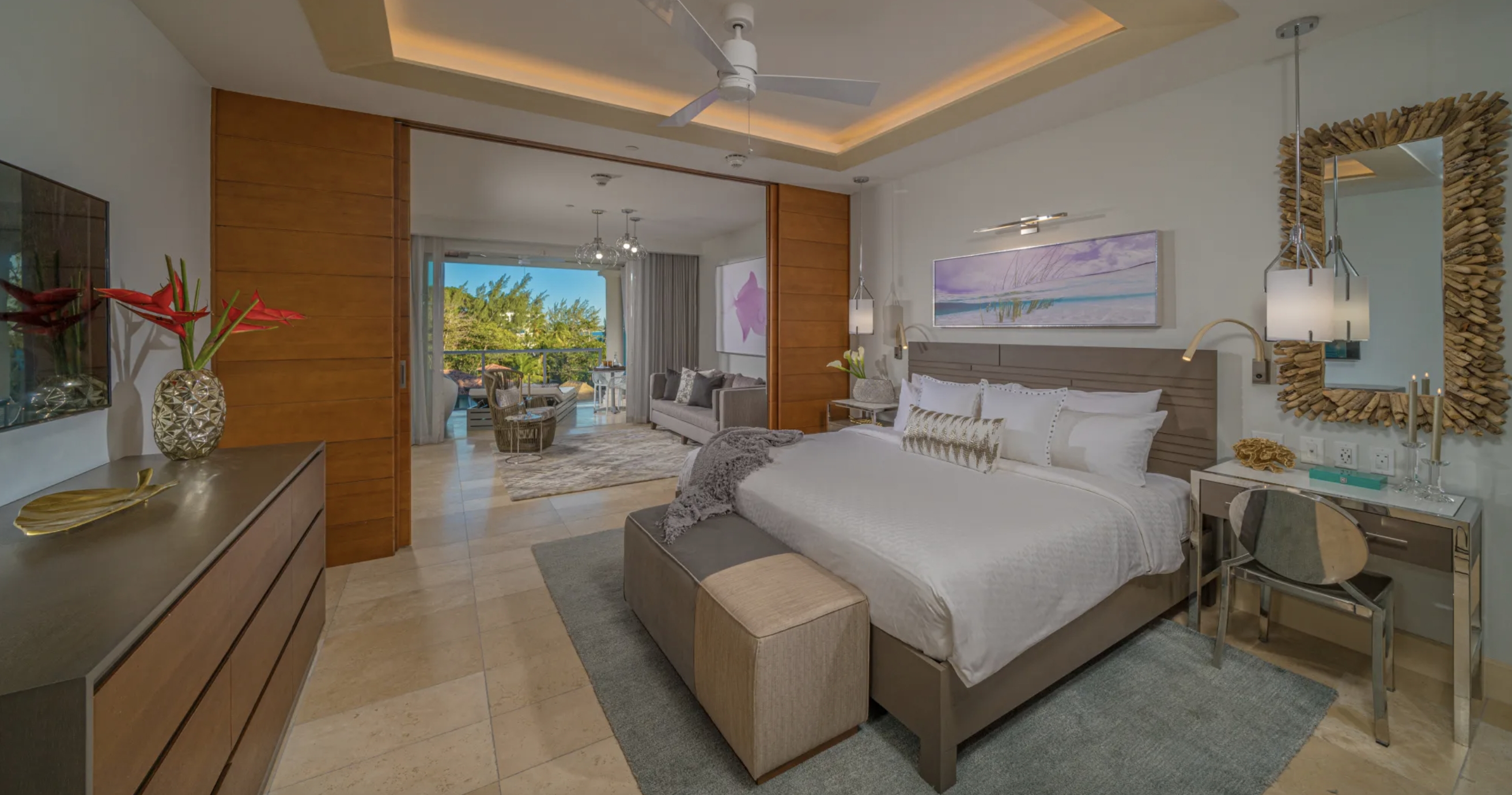 The Sandals Royal Barbados hotel rooms are ultra-glamorous yet somehow make you feel right at home. I was first escorted and welcomed to my room by my personal butler who proceeded to pop us a bottle of champagne as soon as we stepped into the space. "This must be what Drake feels like," I thought.
The room was completely pristine and modern with a vibrant island flair. The best part, though, was the spacious balcony (remember that balcony claw tub I mentioned?). I stayed in a Club Level Barbados Suite (with Butler Service), but there are 21 total room types you can book — from oceanview penthouses to swim-up suites.
View all of the Sandals Royal Barbados room types here.
THE BEST THING TO DO WITHIN A 15-MINUTE WALK:
While it's hard to pull yourself away from the lavish resort life, it's worth taking a 15-minute walk outside to explore Saint Lawrence Gap — if you want to immerse yourself in the action, head to the West End. Coined, "The Gap," it's basically one long street full of seaside cafés, lively bars, various hotels, and small businesses. You'll pass by lots of vendors selling souvenir trinkets and handmade bracelets. You can stop in for a cocktail at a quiet restaurant or pub during the day (I went to Mimosas Barbados) or have a boisterous night out at the club. Or you can walk the boardwalk and lounge at another beach.
Regardless of how much this experience charmed me, it's worth leaving the resort bubble even if it's just for an hour or two.
THE BEST THING TO DO WITHIN A 15-MINUTE DRIVE:
What's a Caribbean vacation without a boat ride out on the water?
And you might as well make it a booze cruise. The best thing to do within a 15-minute (ish) drive from the resort is to take a catamaran tour with Island Routes. A bus will pick you up from the resort so you don't have to worry about transportation, and the drive is a great opportunity to get a small glimpse of Bridgetown, the island's capital. Once you hop aboard the catamaran, you'll sail through the crystal blue water, go snorkeling (look out for sea turtles and stingrays!), sip on rum-spiked cocktails, and venture to other parts of the island.
BED GAME: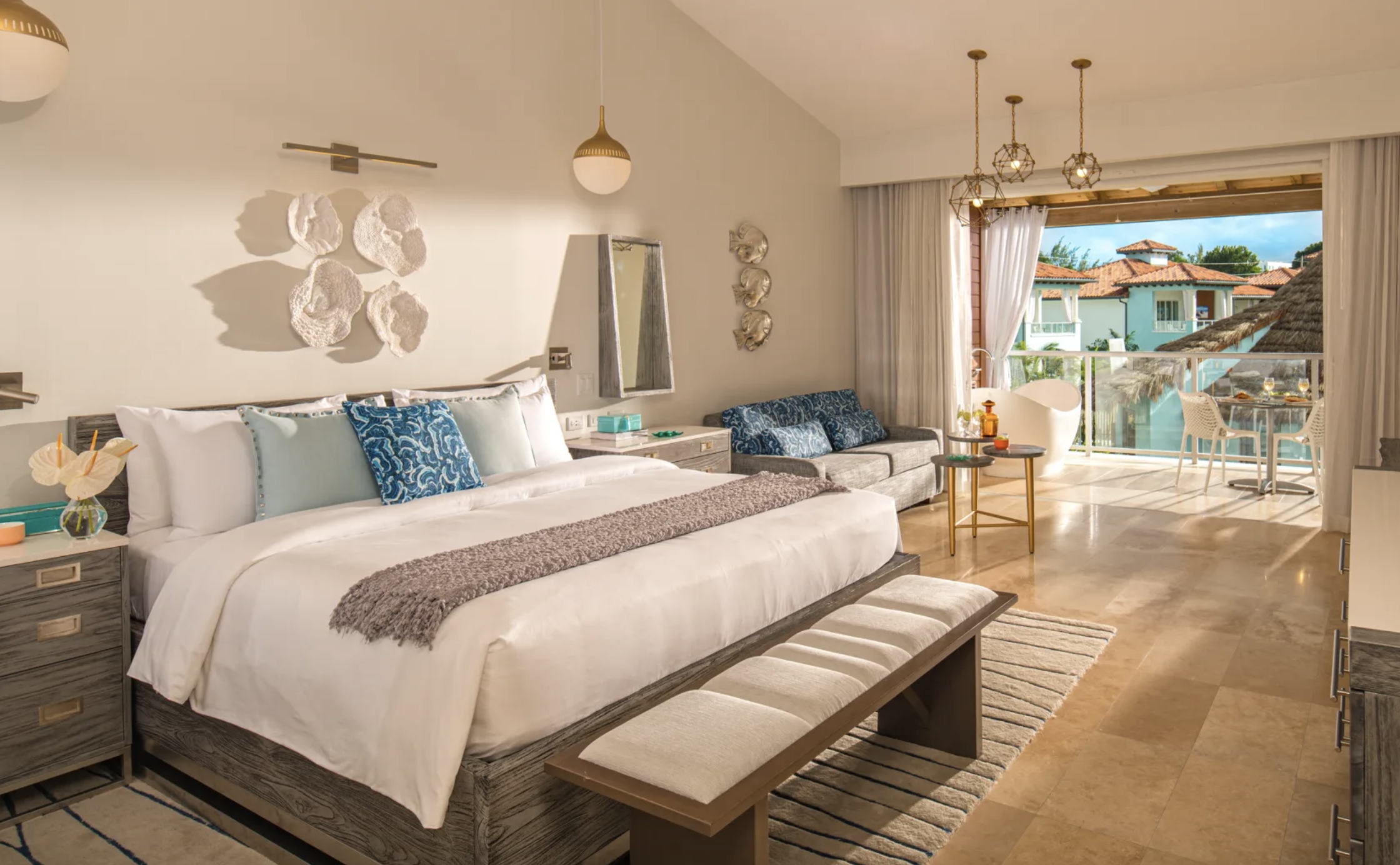 A luxury resort like this one isn't going to skimp out on unworthy hotel beds. I mean, come on! I can confidently say that I passed out peacefully every night. The perfectly fluffed pillows and plush but not-too-heavy comforter created a cozy sanctuary to come home to after a long day of…sunbathing and swimming. (I mean… I was chill as sh*t on this trip.)
The best part? The cleaning staff leaves a piece of artwork on your bed every afternoon made from origami towels (literally, swans made out of a bath towel) and rainbow popsicle sticks placed into endearing sayings, such as "hello sunshine." It's the little touches that stand out.
Rating:
9/10
SEXINESS RATING:
I mean… we never go 10/10 here but…
There's a reason honeymooners and couples are attracted to this place. It's damn romantic! Much of the staff was confused to find out that my best friend and I were not, in fact, in a relationship. I guess it doesn't help that we got a massage for two at the spa, which kicks off with a "love candle" burning ceremony. And I know I've mentioned this twice already, but let's not forget about the balcony claw tub.
Can you imagine soaking in a warm bubble bath with your boo as the sun goes down over the horizon? The point is, Sandals is sexy as hell whether you go with your partner, your friends, or even on a solo luxury getaway.
Rating:
10/10
THE VIEWS AND PHOTO SPOTS:
There is literally an endless supply of photo backgrounds and gorgeous views. From the rooftop bar to the beach to the decked-out beach chairs and pool cabanas to your very own hotel room, you're sure to leave your trip maxing out your iPhone storage (I'm still posting photos from this trip, and I visited almost a year ago).
Rating:
9/10
BEST SEASON TO VISIT:
There's really no bad time to visit Barbados, but the best time to go is between mid-December and mid-April, as this is the island's dry season. During this late-winter and early-spring period, you'll experience temperatures in the high 80s and endless sunshine.
IF I HAD TO COMPLAIN ABOUT ONE THING:
Maybe it's just because I'm not used to having 24-hour service like some other resort travelers, but my only (and I mean only) complaint is that our butlers were almost too attentive. They'd call us to check in multiple times a day, make our reservations for dinner then walk us to the restaurant, show up on the beach or at the pool when we were lounging…It was incredible to have anything I needed at every moment, and I'm incredibly appreciative of their help and what they do, but… at times it felt like a little much. A person being lazy all day just doesn't have too many needs!
BOOK HERE:
As gaudy and inaccessible as it all might appear on the surface, people of all ages, relationship statuses, and backgrounds should consider indulging in the extravagance of an all-inclusive at least once in their lifetime. Based on my own experience, Sandals Barbados is one hell of a place to do it. Book your stay HERE.
INSTAGRAM IMAGES TAKEN AT THE SANDALS ROYAL BARBADOS:
---
Uproxx was hosted for this story by Sandals Royal Barbados. However, they did not review this story. You can learn more about the Uproxx Press Trip policy here.